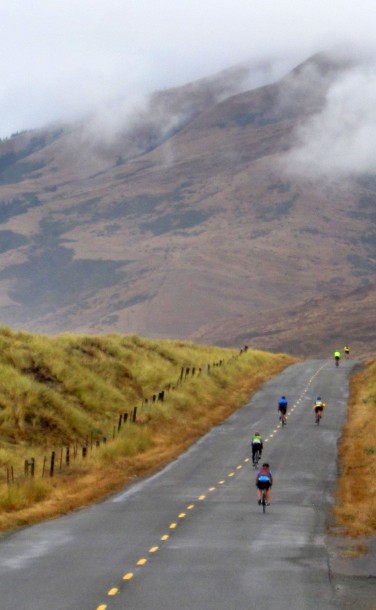 A Chico VELO classic! Spend a weekend riding among redwoods as we tour between quaint coastal towns the vicious climbs of California's Lost Coast. We begin Saturday with 65 miles along the lush Eel River, through the Avenue of the Giants, the Rockefeller Redwoods and up the looong and lonely climb of Panther Gap, then it's all downhill to the Honeydew. Sunday is 35 miles of seaside riding and the mythical "Wall." You'll go home with something to remember no doubt.
If you miss the 2011 Spring Sojourn, come out and ride our favorite parts of that tour, and of the California coast. You'll want to come back.
Campground fees, luggage transfer from the start, Saturday's night dinner, and the WM road support/surprises are all included in your registration fee. Registration opens this May.
Start: Ferndale
Finish: Ferndale
Route: http://tinyurl.com/3n9dzae
Distance: 100 miles
Ride Days: 2 days / 1 night (2 nights including the-night-before)
Difficulty: Challenging climbs
Comfort: On a scale of 1 to 10? It's a solid ride, comparable to the Wildflower. Generally speaking we'd put it at a 6.5ish. Unless of course it rains..
SAG Support: Luggage
Accommodations: Mattole River A.W. Way County Campground (camping fee included in registration)
Meals: BYO Breakfast on Saturday (or dine locally), lunches and dinner on Saturday is on Chico VELO
Cost: TBA
More details and registration can be found on Chico Velo's website.
Get on our mailing list to catch updates!