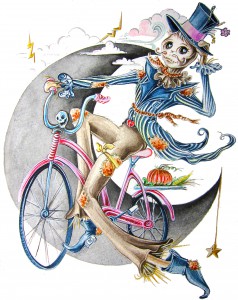 Wheeled Migration presents our second annual Bicycle Harvest – a costumed bike ride and overnight festival to celebrate the tradition of harvest, local splendor, and bicycles. The fully supported, twenty-mile bicycle social rolls merrily through Butte County to Chaffin Family Orchards at the foot of Table Mountain. Your luggage will be waiting for you when you arrive.
Three hundred people on bicycles in costume! And that's only the commute.
The Bike Harvest festivities are set within the majestic 100-year-old olive groves of Chaffin Family Orchards. Pedal-powered music will be brought to us by Chico Bicycle Music Festival, try Chaffin's Bio Diesel hayrides, take farm tours, enjoy incredible organic food, bob for apples, get into our pumpkin carving contest, fall down in the gunny sack races, take it in from the hammock village, and sleep under a quarter rotten harvest moon.
We'll see you in 2012!
Get on our mailing list to catch the announcement.