Congratulations Deedee YOU WON Tats for Tours!
You and a guest will be awarded a full tour package of your choice, anytime, anywhere we go, ever. If we may make a recommendation, SAVE YOUR PRIZE!
WM Tours continue to get better and better. We have no intention to slow down and who knows, perhaps one day this little prize will mature into a trip for two to Italy. How's that for a winning!?
How did we do the drawing?
Q created a command line script to randomize the list of contestants and print the name of one lucky winner. We considered throwing bones, calling the psychic hotline, or asking a waitress at Jacks to just help us just choose one, but in the end nothing beats technological slight of hand and modern witchcraft.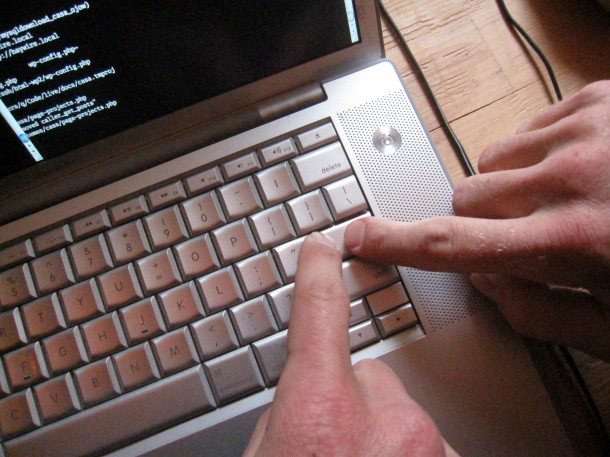 And suddenly… POOF!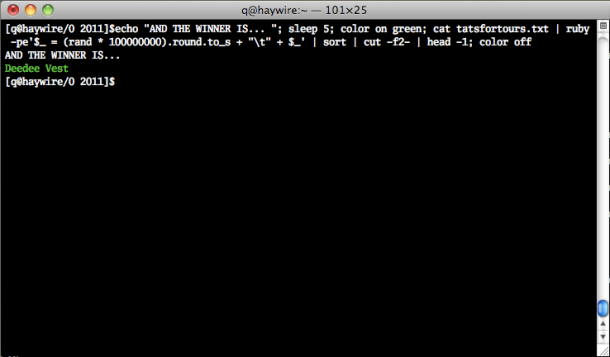 Did you lose?! Well, lose like a winner!
For everyone else who played along, you are sooo cool. We hope you had fun and truly appreciate your spirit. You are definitely the people we want to ride with. So much in fact we are offering a 5% discount to everyone who sent us a picture for any WM tour anytime, anywhere, ever. How about that?
Go to our Facebook Fan Page Photo album to see (almost) everyone's entries.
Thank you for spreading Wheeled Migration far and wide.